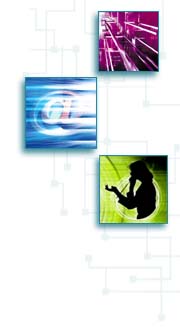 Unlimited Networks makes choosing your technical solution provider simple.
90% of jobs are processed and solved within one hour of logging them.
Unlimited Networks incorporate cutting edge remote access network administration tools as part of our standard network service. This means that you usually don't have to wait for us to come out and see you for urgent problems. Nor do you have to pay expensive call out fees. A majority of problems can actually be solved online while we talk to you on the phone about your case. This facility provides unheard of turnaround times that our clients have come to demand.
We promise to strive to find the best hardware and software solution for each client - and we promise that solution will be provided without bias to brand, manufacturer or supplier.
Unlimited Networks have very wide networks of suppliers and providers, meaning that we can always search out the right technology for your needs - at the right price. Having single supplier bases hampers many companies by limiting the scope and competitiveness of the products that are supplied.
We don't believe that downtime is unavoidable!
At Unlimited Networks we believe that proper planning, network design and installation is only the beginning of a complete network solution. A large portion of network problems can be prevented if proper monitoring and administration systems are in place. We will work closely with your staff to train them in the proceedures that will prevent unnecessary downtime - by recognising problems before they occur.
We can even monitor your site remotely, and notify you in the event of any impending or actual problems. This can reduce downtime to virtually nil - and in the event of outage - we can restore a working network quickly. In the unlikely event of complete data loss we have comprehensive Disaster Recovery Procedures in place to ensure you get up and running in no time.
We focus on providing you with an end-to-end solution
At Unlimited Networks we understand that no technology is an island and we strive for awareness in IT areas that reach far beyond our specialties. We are capable of handling any IT need from web hosting to database management, network design to software troubleshooting.
You will rarely have to bring in other IT partners for your large-scale projects. This means you won't have to retrain other companies in your specific situation and requirements - nor will you have to waste your time co-ordinating multiple IT partners.
Unlimited Networks is proactive in the training and development of its entire staff. We always maintain current industry knowledge and pass that knowledge on to you whenever it will be of benefit. This ensures that you will receive personalised, evolving solutions carefully tailored to meet your needs.
We won't sell you technology for technology's sake
At Unlimited Networks we understand that your business is what you do best - not technology. We will only implement technologies that help to streamline and simplify your business - not complicate and limit it.
We ensure that our staff have a business focus and knowledge, not just a technology one. We do not implement technology for it's own sake, but will work with you to ensure commercial viability.
We understand you need prime communicators in your technology partners.
Like many companies we employ our staff on the basis of their extensive experience and technical knowledge of the IT sector. We also strive to provide engineers who can not only find and implement solutions - but communicate them as well. We will explain to you - in plain English - exactly what your options are. Then you will be empowered with the information to make the decision on the right course of action. No more IT doublespeak to confuse you and force you to end up paying more unnecessarily. Just great communicators!