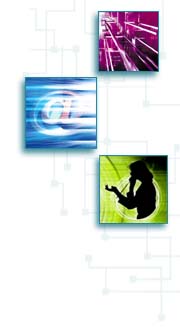 The true test of any service based company is it's clients so we'll let them speak for us:
A|D
Windows Environment, Exchange 2000, PC's and MAC's. The entire management of all issues related to the system rollout.
"Before Unlimited Networks we were having network outages once a week and our IT costs were spiralling. It sometimes took a week to even get a technician to come out and see us!
Now everything runs smoothly - and on budget. Any problems are usually fixed within minutes - and no problem is too big. All of Unlimited Network's staff have a can-do attitude - making them a dream to work with.
I continue to be amazed and the depth and breadth of knowledge provided by Unlimited Networks in all IT areas. As the web development side of our company expands so do our support needs. James and the Unlimited Networks team have certainly helped us to be competitive within our field by streamlining all of our technical processes - whilst maintaining the cutting edge technology that we require."
Stuartholme
New Novell 5.1 server merged into an existing tree and all training needs.
"Novell is no easy task by any stretch of the imagination. Unlimited Networks made the job look easy, they managed to install the new server with no down time and provide all the training under what we budgeted for. Great job!"